We Were Liars by E. Lockhart  
I highly recommend you don't read this review, or any review on this book if you are planning to pick this up (which you should do, so, so, so much). The only productive thing i, or anyone can say would be that you need to read it. It's the kind of book that only works with no expectations at all. So only carry on reading this if you've read We Were Liars or you're happy to ruin the chance of this book from being a 5 star read to a 3. 🙂
(this will still be a very spoiler free review)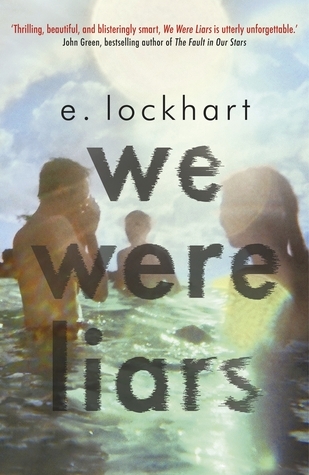 Wow, wow, wow. This book left me mind-blowwwwwn. I found it impossible to put down and read it all in one sitting. 5 out of 5 stars! Quick warning: This book is a liar. It crushes souls and severely destroys hearts. There will be tears. And you must be willing to have to scrape your chin off the floor. With a forklift. Hell yes, it's that incredible.
If you're familiar with my reviews, you know that this is the part where i leave a summary of the book to give you an idea of what it's about before i start gushing, but i believe We Were Liars is the kind of book you should plunge in, not knowing much. Even GoodReads understands – Here's their summary:
---
We are the Liars.
We are beautiful, privileged and live a life of carefree luxury.
We are cracked and broken.
A story of love and romance.
A tale of tragedy.
Which are lies?
Which is truth?
You decide
---
I love that the book encompasses a family tree. I found myself flicking back to it, multiple times. The writing was beautiful and haunting and the need for answers drives you insane. This is not a character-driven novel. The brightness of the story outshines everything.
This will be a short review since i urge you to go into this as blind as you can. DON'T LET ANYONE SPOIL YOU. If someone asks me whats the ending, i will lie.
From the mixed reviews I've seen, you either love or hate this book. There's no in between. For me, i saw more negative reviews so my expectations were so lowww, and this book was just woah. After i finished it, I immediately re-read it, tabbing the hell out of it. If you follow me on Instagram on ManyReads, you know i nearly tabbed every single amazing sentence. You just won't everrrrrr see that twist coming.
Such a terribly beautiful read. 
Do not accept an evil you can change.
Check out We Were Liars on goodreads!