Between Us and the Moon by Rebecca Maizel 
Big thanks to the publisher for providing me this ARC in exchange for a honest review.
The expected publication: June 30th 2015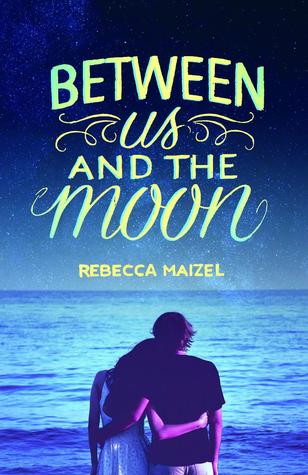 I tried and tried and really tried to like this. If you have me on goodreads you know I considered DNFing it multiple times but in the end i made it through, woop woop (!) I ended up giving this book 2 stars.
Between Us and the Moon is about Sarah, nicknamed Bean, who lives in the shadow of her gorgeous older sister, Scarlett. Sarah lives for the stars. She studies them and tracks comet – it's all pretty cool. However, since her whole life has always revolved around stars and after a little bit of a heartbreak, Sarah is determined  to become this cool and older girl – a girl like Scarlett. This leads to the creation of the 'Scarlett Experiment' which basically consists off being more like Scarlet –  making friends and attracting guys.
I strongly hate dishonest characters. Sarah is a very, very dishonest character. She lied to everyone, including herself and got herself into this big mess. How does she solve this big mess? Through more lies but ugh it didn't solve the big mess. It made the mess even bigger. (You can tell it frustrated me so much)  I would of loved the relationship between Sarah and Andrew (he's the reason i even bothered to finish this book) much more if it wasn't built on a lie. Sarah was so irresponsible, i found myself wanting to scream WHAT ARE YOU DOING?! There were a lot of face-palm moments. Like a lot.
Ok, now i got some of  the negatives out the way – Sarah spent her summer falling in love with the charming Andrew. She would wear her sister's clothes and sneak out. Not the she ever got caught because her family would always assume she's just looking at the stars or in her room studying. They payed absolutely no attention to her. I totally understood how it felt to be in the shadow of a sibling and how frustrating it can be so i enjoyed that part. The whole book was so predictable until i got to the end and after i expected the ending to be as ridiculous i was surprised that it finally consisted of a realistic reaction. (I was so please with that reaction guys, you don't understand) 
My dislike for this book might be because i had really high expectations that definitely weren't reached but i don't know. Not my kind of fun read. I hate that this is my first negative review, i hope i didn't rant to much. This is literally the most i could limit my ranting haha.
You watch the world. I'm not even sure you live in it.
Check it out Between Us and the Moon on goodreads!